By Abby Rouse
After hours of gazing at the computer screen not knowing how she is going to get through the next hours and days, she is lost. When looking at all the x's and y's in the algebra problem she gets a rushed feeling of being overwhelmed.  
"It's been awful because of Covid," sophomore Mabrey Stebbins said.
Stebbins is a sophomore at Delta High School. She said she is struggling with some classes this year after being quarantined along with some other classmates. 
Sophomores Shannyn Cox, Sydney Stroble and Avery Chester and freshman Royce King are among other students who also said they have had the same struggles as Stebbins. 
Many kids across the country have been struggling with e-learning or online school. Some may say it is much different being on a computer than in an actual classroom. 
At different times, dozens of Delta's students have been quarantined, which brings them to no other choice than e-learning. As of Nov. 6, there were 47 Delta High School students in quarantine. (This changes everyday, but you can find these numbers at http://delcomschools.org and then select the Parents tab and select DelCom COVID dashboard.)
Stebbins said she is struggling with her Spanish III and Algebra II classes. 
"I got behind with quarantine because I wasn't able to take the tests," Stebbins said.
Stroble said she also struggles with foreign language and math classes online.
"Some teachers give tests which are difficult when you haven't been in person for a while," Stroble said.
Chester believes, "It's harder to focus on the computer."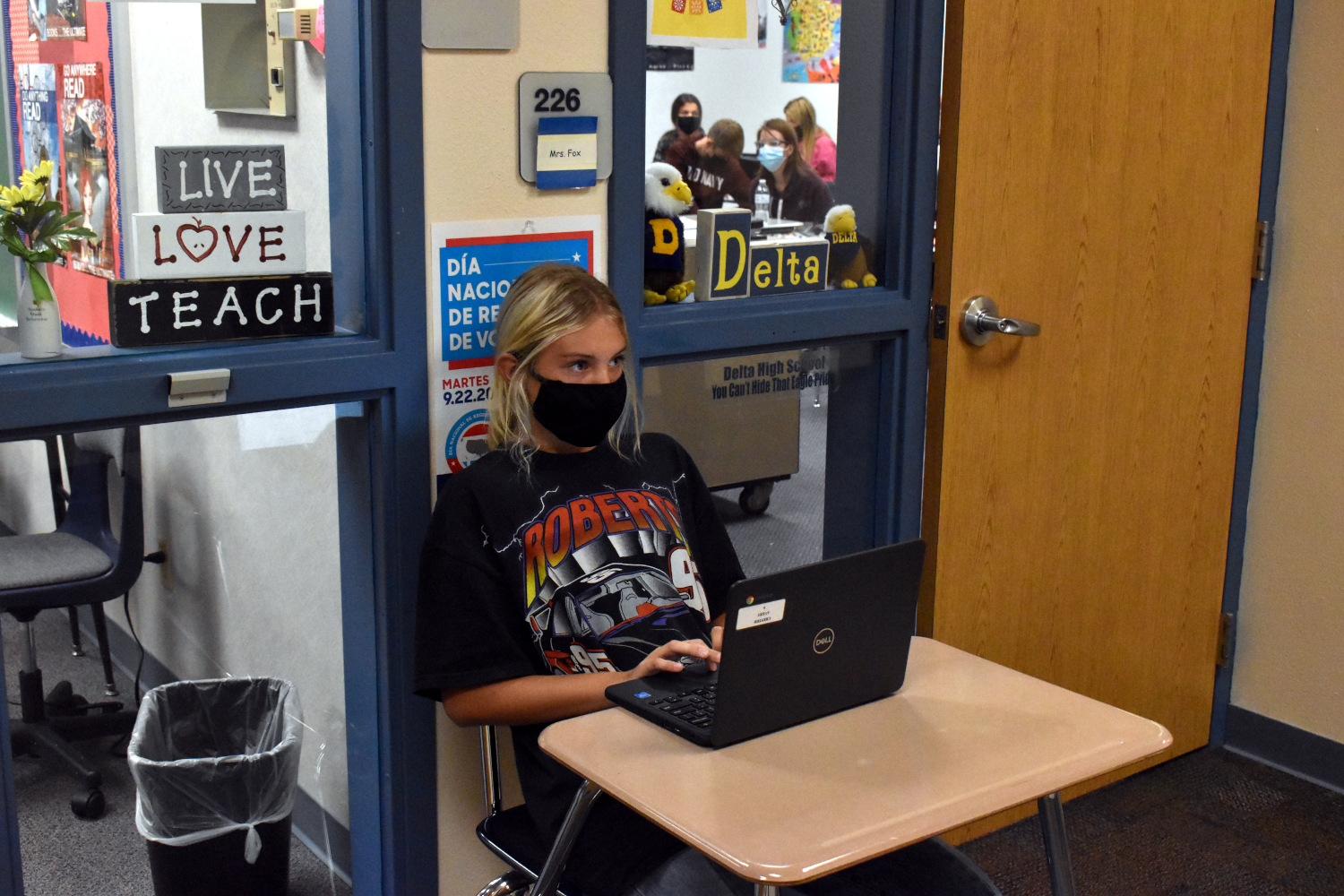 King said, "My grades have been a little low because I can't focus during e-learning." 
Stebbins, Chester and Cox have all said that teachers have curved their grades. 
"Some teachers have given bonus questions, but I don't know them," Cox said.
Many students don't mind e-learning because they find it easier to open up and less nerve-wracking than being in person.  
"In-person classes are easier, but I don't like human interaction," Cox said. 
Many students have seemed to struggle to get their grades recovered from them dropping over e-learning. It could be that teachers are giving too much or that the students are just stressed in general and stopped doing their work. Some teachers might not place their work where the students can find it.
 King says some teachers put  "the work in Pages instead of Modules."
There are an unlimited number of possibilities to why the kids are struggling. Cox said, "The teachers expected too much from me." 
Stroble said she doesn't have good grades this year. Even studying extra might not seem to do the job, Stroble said.  "I've just been studying a lot harder and a lot more," she said. 
Cox said, "I had two C's this year and last year I had all A's. … I study, and I never have before this year." 
A lot of teachers have also been a help to some students. 
Stroble said, " Zacek helps me because she brightens my day." 
The help might not just be in educational ways, it can be in emotional ways. Chester said, "Mrs. Hall has helped me. She lets me talk."
Talking can help a lot of kids in a perspective of what people are going through. 
Other than grades many students have not had their hottest year in general. School is usually a place where students can make a lot of memories. Due to Covid and all the rules that come with it, many students can't live the full high school experiences. 
Stroble said she thought this year is "not good. It has not been fun at all because we have to wear a mask all the time. Everything has also changed."
Many kids feel that everything has changed. Stebbins agrees with Stroble when she said this year is "not good. It's been awful because of Covid. We are also under construction so we have to carry our backpacks, which is awful."
This year high schools have had to make restrictions to a lot of fun activities such as sporting events. Delta High School had to limit the number of students allowed in the student section. Without all the normal high school activities, Chester said she "can't seem to focus."
King doesn't like all the changes this year and he also "hates wearing a mask all day."
Although the students have seemed to struggle a little, they hope everything can go back to normal sooner rather than later.