By Abby Rouse 
With the mats getting rolled up for the season, the underclassmen felt accomplished. All the blood, sweat and tears didn't quite pay off as they wanted. But they hope to meet their ultimate goal by their senior year. 
The Eagles are on the rise with four freshmen advancing to regionals or beyond. With the freshmen being so successful this season they hope to continue this journey with new head coach Cody LeCount, who was hired earlier this month. A former two-time state champion at Perry Meridian High School in Indianapolis, LeCount previously served as a top assistant coach at Carmel High School. 
Freshman Braxton Russell went to regionals to wrestle in the 160-pound weight class. He did not advance to semi-state, but he was not too upset about where he finished. 
"It was pretty cool as a freshman. I didn't finish how I wanted to or anything, but it was a good experience," Russell said.
With Russell wrestling in a higher weight class, he did not come across many opponents in his grade.
"It was just a good experience," he said. "All the juniors and seniors were just bigger and stronger. It's kind of cool to just see where I was at." 
Although he did wrestle mostly upperclassmen he finished his season with a 17-12 record as a freshman. Russell did have someone take him under their wing. Senior Lucas Fox has helped Russell throughout the season by being his partner in practice. 
"He was my practice partner at the end of the year, and he would just beat the crap out of me," Russell said. 
Fox not only helped Russell, but he also helped Neal Mosier, another freshman. 
"There's a lot of potential, and they will be really good by the time they are seniors," Fox said.
Mosier thought Fox was a good leader for him to look up to throughout the season. 
"Lucas Fox has helped a lot throughout the season. He always worked hard in practice," Mosier said. "It was inspiring. Something to look up to."
Mosier, who wrestles in the 113-pound weight class, made it to semi-state with a record of 21-5. "I was excited. It was freshman year so I wasn't supposed to do good so the pressure was off," Mosier said. 
He felt "most of the pressure was on the seniors to beat the freshmen."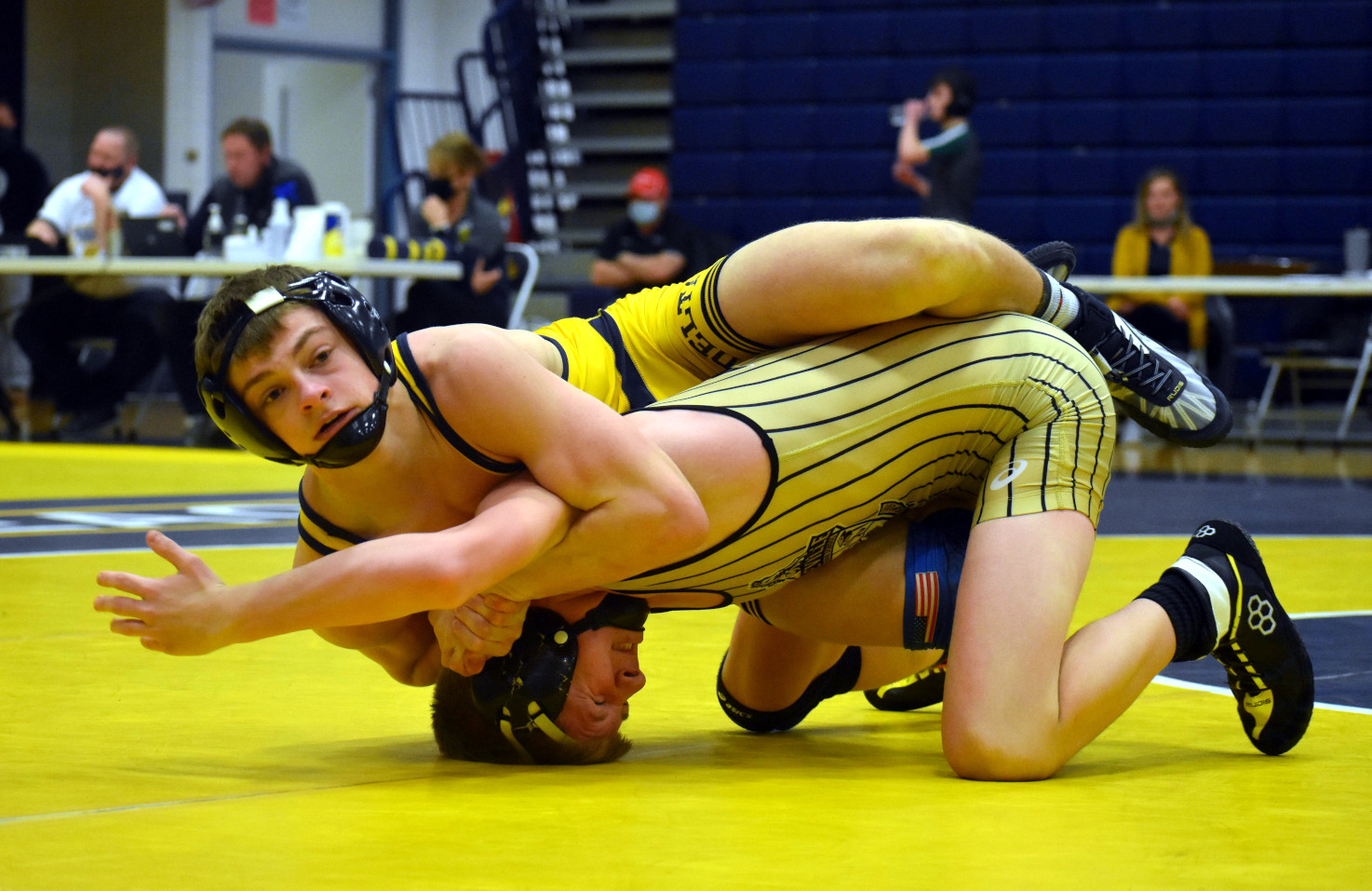 Wyatt Krejsa, another freshman on varsity, has also been successful this season with a 22-7 record. He made it to semi-state at 126 pounds.
"I felt very thankful for the opportunity to compete at regionals as a freshman," Krejsa said. 
He had a difficult time this season with Covid.
 "It definitely affected my season. I was quarantined three times," Krejsa said.
As he advanced to semi-state he seemed pretty confident with the people who have helped him. 
"My private coach and my sister were the ones who pushed me to where I got this year," he said.
Krejsa did not feel pressure as a freshman.
"I know that people didn't expect much from me because I was only a freshman," Krejsa said.
He holds himself to even higher standards next year. 
Freshman Kolten Rhonemus has also had a tough time with Covid this season. He was quarantined and missed part of the season.
With Rhonemus being a freshman he did not wrestle many kids in his grade. He was in the 132-pound weight class.
"I don't think I wrestled another freshman all season," Rhonemus said.  
He made it to regionals. With a 19-10 record, he hopes to be a state qualifier soon. 
With the freshman wrestling class seeming to be filled with athletes, they hope to continue on the road of success. They will not only have a new coach next season, but also their own wrestling room in the new fitness center that will be completed this summer.