By Eleni Bow and Trey Gilbert
For teachers, the first day of school is like their New Year's day, a time with promises of both intentional and unintentional changes. The 2021-2022 school year was no exception. 
Delta High School welcomed eight new teachers to its overall employee pool. One department received entirely new teachers.
A team of profesoras nuevas, if you will. 
However, this is not where the story begins.
Many years ago, a young Shawn Churchill sat in the Spanish class of Mrs. Mary May at Cowan High School. Churchill fell in love with the curriculum and wanted to make a career out of it. Mrs. May inspired Churchill to follow in her footsteps, and the rest is history.
Nowadays Mrs. Churchill has reunited with the Spanish department at Delta High School. She teaches levels I and II here.
 "I'm excited to be here," she said. "It's nice because I taught at the middle school and have similar faces."
Her favorite levels of Spanish to teach are I and II because "It's neat to see how much they grow over the years from knowing very little Spanish," Churchill said.
She said her transition to high school has been easy, thanks to her prior experiences as the middle school teacher at Delta, so she's already been teaching some kids for three years.
Before coming over to Delta, Mrs. Churchill taught at Cowan for eight years then Yorktown for two years before becoming an instructional assistant at Anderson Community Schools.
She said the Delcom community is a good place to raise her kids and for them to go to school.
She also co-owns a restaurant with her husband in Albany, Pete's Bar and Grill, so it's a closer connection to the school as well.
The adjustments that she's made since starting work here are using a new curriculum that is more language and immersion-based instead of textbook-based. They adopted it from language acquisition based on research.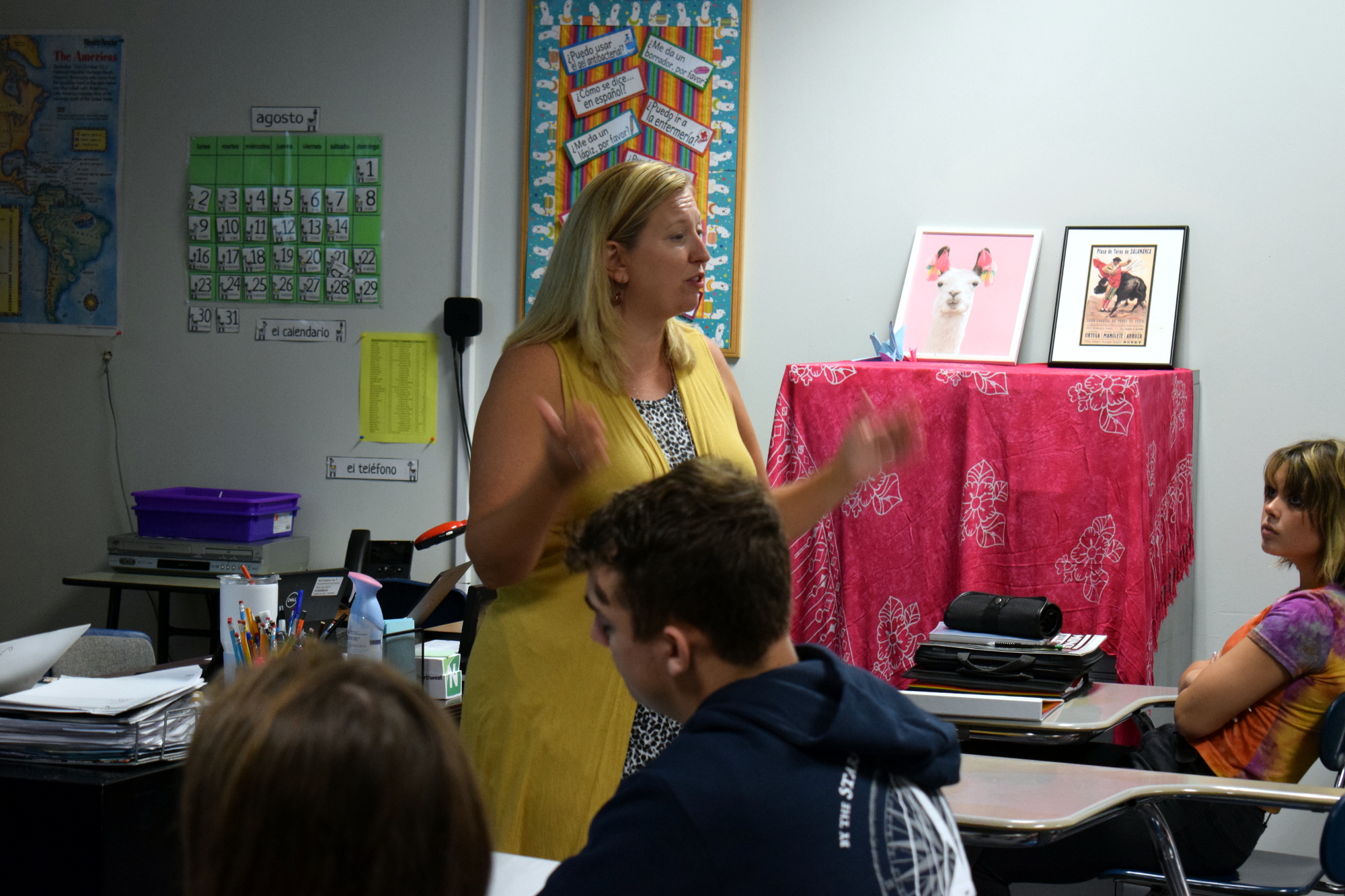 Hunter Coppernall, a freshman in Churchill's Spanish II class, has learned a ton of material so far. "It's interesting because Spanish isn't like any other class, because you're learning an entirely new language and Mrs. Churchill makes the class fun and engaging with fun activities."
Churchill said she enjoys working at a high school level because she feels like the kids are more mature and more willing to engage with the material compared to the kids at the middle school.
She wants more kids in high school to take Spanish – not just for the experience of learning a new language, but also for the benefit of job opportunities in the future. Additionally, it's good for a college resumé to have years of foreign language education. 
Most importantly, it gives a chance to learn about a culture and an aspect of life you otherwise would never get to experience, according to Churchill.
And maybe, just like her younger self, you might just be inspired to make a career out of Spanish yourself. 
These days, May and Churchill consider themselves to be each other's "cheerleader," offering each other ideas and collaborating. 
May says she was a "military brat," growing up in Spain for four years while her step-father served in the Air Force. For her, this special circumstance became "a big part of my heart." Being a global nomad made it easier to make friends as she moved around, and she aced high school Spanish. 
After graduating from Ball State University, May conducted her student teaching at Yorktown High School. She then went on to sub for schools within the Anderson district. 
In 1998, she taught at Cowan for the next two years. Finally, she settled down at Jay County High School, where she would teach for the next 21 years. 
However, her teaching journey doesn't stop there.
This summer, May was provided with the opportunity to come to Delta. Mrs. Churchill told her that there was an open position and encouraged her to take it, yet May was hesitant. 
She finally decided to take it after spending time with family on a summer vacation. Realizing she wanted to be closer to her friends, family and church, May put in an application.
"I'm really at peace about coming here," she says.
It has been a few weeks since the school year has started, and she has settled in nicely.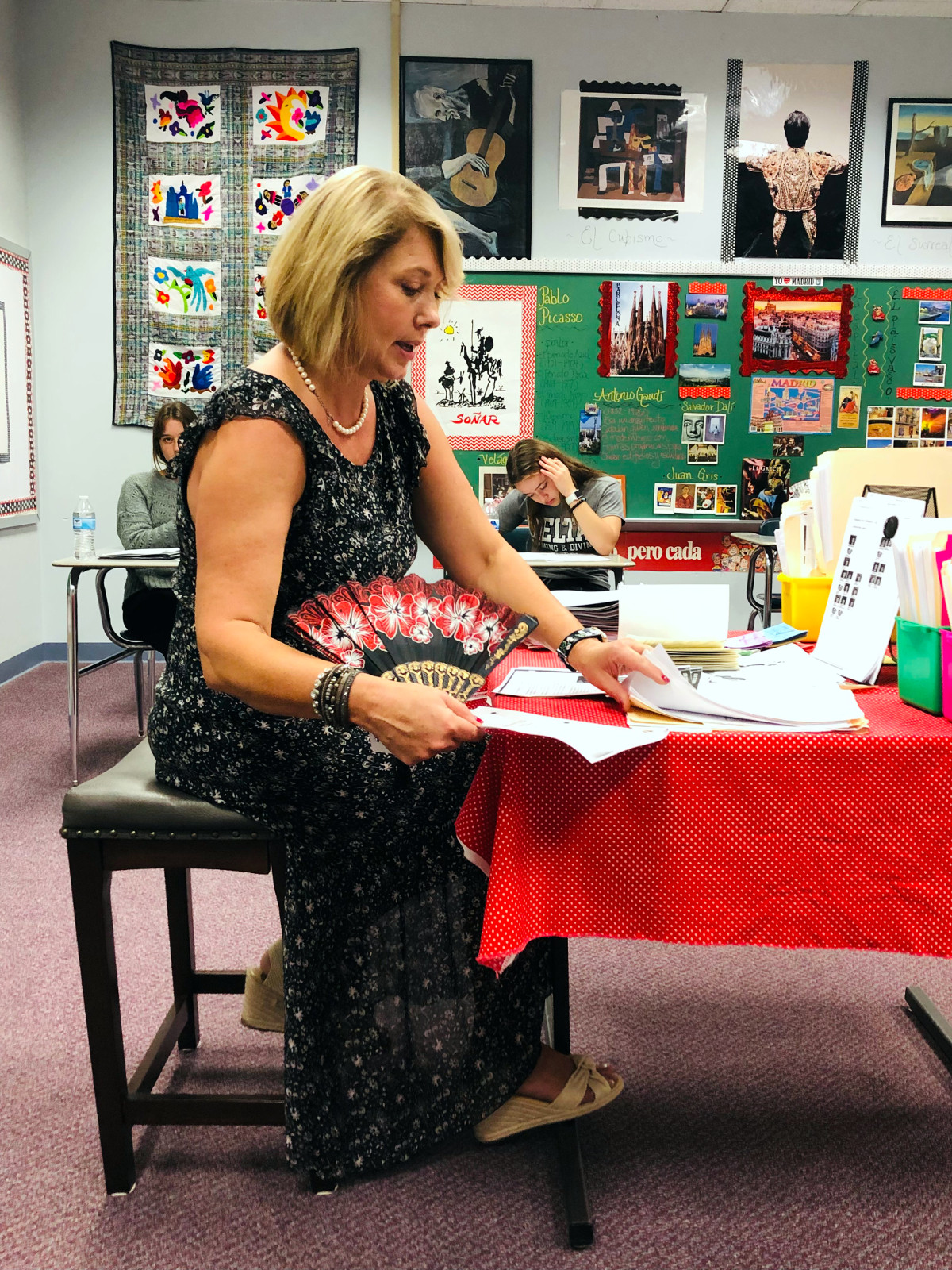 "I have to say, even before school first started, the staff and other teachers just have been so nice and helpful," May says. "The students have just been a delight to work with and have been very polite, and very smart, too." 
Polly East is a junior enrolled in May's Spanish IV class.
"I really like her; she is a whole new environment to our school," East says. "She has very different teaching ways, and I can really get used to that."
Mrs. May spends more time speaking in Spanish compared to English to further immerse her students in the language. This is a habit that most students haven't previously experienced. 
However, she doesn't leave her students in the contextual darkness. May also makes sure to explain what she's talking about and repeat in English. 
Spanish IV is a miniscule class, with only six students – one senior and five juniors – enrolled for this year. This is a class that puts previous knowledge and skills to the test.
"I heard that Spanish iV is a lot about culture, and that really interested me," East said. 
East has already made a connection with May. 
"She is a very patient and kind woman, and I can tell [she] has a passion for kids and wants us to do well," she says. 
The COVID-19 pandemic caused a majority of Delta's clubs to be cancelled last school year. However, rules regarding clubs have been relaxed now. May said she wants to take advantage and hopefully bring back the Spanish Club. She also aspires to one day take students on international educational trips again. 
Contrary to popular belief, teachers do not live at school.
May is proud to say she has three adult children, five grandchildren, and two sons-in-law. As a family, May says, they prefer outside activities over inside ones. They will gather to swim and share a meal afterward. On Sundays, she can be found with them at Union Chapel Church. 
Not every Delta student is currently enrolled in a Spanish class, but May wants them to all know some things about her nevertheless. She wants all students to know that she is there for them, that she is always there to listen or offer guidance.
As for the six additional new teachers at Delta, May offers this advice:
"Enjoy every day, and take the changes one by one!"